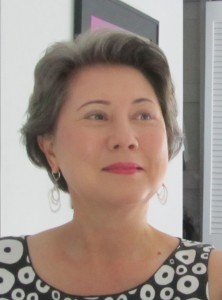 Nina Howard has been called a Renaissance Woman by her many peers and friends.  As an Artist, Interior Designer, Massage Therapist, Polarity Therapist, Licensed Esthetician, Educator and Entrepreneur, Nina synthesizes these talents by creating beauty and wellness in all that she does.  In addition, Nina is an inspirational speaker, author and contributing author to 4 books as well as many magazine publications.
Current professional membership is retained with Associated Skin Care Professionals, Associated Bodywork and Massage Professionals and The American Polarity Therapy Association as well as licensing with the Michigan Board of Cosmetology #2705000016 and the North Carolina Board of Cosmetology #E3967.
In the mid 1980's Nina fell in love with the mountains of Western North Carolina and moved to Waynesville. Shortly thereafter she began studying the growing practices of bio-dynamic gardening and began building a sustainable lifestyle for herself.  In 1994, Nina moved her massage and art studio on Church Street in Waynesville (where the Patio Café now resides) to Ann Arbor, Michigan where she created Bellanina Day Spa and Institute. The physical day spa became the walls for her Ann Arbor gallery!
Bellanina's Spa & Institute……and art gallery
In 2007, Bellanina Day Spa and its staff of 33 won the National Day Spa of the Year Award granted by the Day Spa Association, being recognized as a unique spa/gallery intended to heal mind, body and spirit. While in Ann Arbor, Nina received her Esthetician's license as well as her Polarity Therapy (energy healing) certification. She also travelled to Thailand for Thai Massage certification. Nina parlayed these skills together with a little 'bootstrap financing' and built a million dollar business in the healing arts.
While developing a second location for Bellanina Day Spa, Nina purchased the Belavi Institute, a spa training school which trains massage therapists, estheticians and healing arts professionals in unique facial massage techniques.  Along side this pursuit Nina developed her own skin care, bath and body product brand under the Bellanina label.  In 2002, the Belavi Institute was joined with Bellanina Day Spa, and transitioned its' name to Bellanina Institute. Now as a co-owner of the Bellanina enterprises, since 2011, Nina divides her time between Bellanina in Ann Arbor and her home and studio in Waynesville, NC.
Modern Art:  As an artist, Nina has produced hundreds of paintings since her art career began in New York City after graduating at the top of her class in Interior Design from Fashion Institute of Technology.  In 1980, while designing the interiors of Merrill Lynch in Manhattan, Nina received her first artist commission after commenting to the client that she could paint a piece to enhance a setting in the corporate offices.  Lucky break!  She has continued for the last 34 years to produce artwork for public and private collections. Nina feels that her abstract paintings connect her to the Divine and that Spirit flows through her as she paints.
A partial list of her clients:
The Atlanta Market Center, Atlanta, GA
University of Alabama, Paul Bear Bryant Center, Tuscaloosa, AL
Blue Cross Blue Shield Corporate Offices, Detroit, MI
Sun Trust Bank, Birmingham, AL
Christophe Leger, Paris, France
Georgia State University, Atlanta, GA
Merrill Lynch Corporate Campus, Princeton, NJ
Berglund-Kantorowitz Residence, Bellingham, WA
Perlmutter Residence, Ann Arbor, MI  & Tyla Wells, Northville, MI
Interior Design:  As a Licensed Interior Designer with 36 years of experience, Nina blends and harmonizes the elements of design with her keen eye for color, spatial expertise, and the emphasis on the interplay of light, texture and form.  With a very long list of clients and projects, we have listed a few she has played a key role in the design:
Kenneth Cole's first shoe store, "Frizoni" in Rockefeller Center, NY 1979
Kenneth Cole's first co-op apartment in NYC
Warner Communications offices at Rockefeller Center, NYC 1979 – 1980
Merrill Lynch Relocation from Wall St to  Third Avenue, NYC  1981
IBM FE Education Center, Atlanta 1983 & 84
Office of the President of Merrill Lynch Asset Management, Corporate Hdqtrs. Princeton, NJ 1984
Sun Trust Bank Corporate Offices, Atlanta 1985
Nina has ownership in the following websites that mirror her vocations and avocations:
Founder/CCO:  Bellanina Skin Care www.bellanina.com
Founder/CCO:  Bellanina Day Spa www.bellaninadayspa.com
Founder/CCO:  Bellanina Institute www.bellaninainstitute.com
Sole Proprietor:  Bellanina Guesthouses www.bellaninaguesthouses.com
Sole Proprietor:  Nina Howard Studio www.ninahowardstudio.com
Creator:  Envision the Shift www.envisiontheshift.com
Nina divides her time between Bellanina in Ann Arbor, MI and Nina Howard Studio in Waynesville, NC.